The city of Seoul may be popular among visitors, however, there are several spots in and near Seoul that will provide you with the best spots for your Instagram photos. The digital era is here, and having a pretty Instagram feed to look at is something everyone wants to have. Especially when visiting Korea, no one should leave the country before visiting these spots and taking a picture. Here are 5 spots in and around Seoul that you have to visit whether you are a traveler or have been living in Seoul. All of the spots here are free of charge too. Depending on the season of the year, there will be different spots that will be affected by the natural environment, so check this out!
Seokchon Lake in Spring
Forget Yeouido Park and move on to Seokchon lake for spring. Spring is in full bloom only for a short period in South Korea. Which is why all the Spring spots will be popular wherever you go. This is especially true during the weekends. However, the Yeouido Park will be a lot more crowded during this time so we recommend going to Seokchon Lake instead. The lake stretches widely, and it is close to Lotte Tower, Lotte Mall, and Lotte World. So if all else fail, you can go to these places instead.
Information –
Address: 05608 136, Samhaksa-ro, Songpa-gu, Seoul
서울특별시 송파구 삼학사로 136 (잠실동)
Operational Hours: Open 24 Hours
Transportation: Jamsil Station (Line 2), Exit 2 or 3
Admission: No admission (Public Park and Lake)
The Lonely Tree in Summer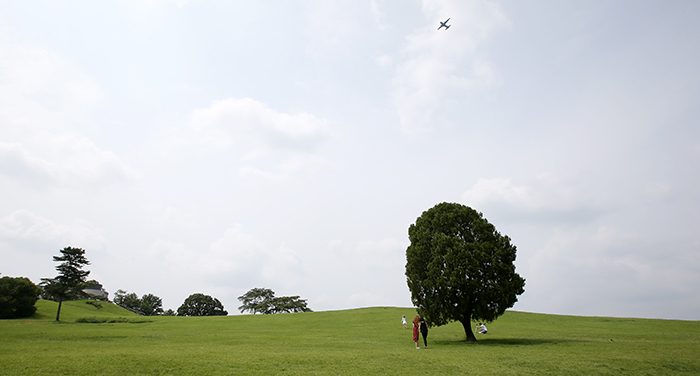 This particular lone tree in Olympic Park attracts the attention of many. Located in a park of many trees, this lone tree stood tall far away from other trees, and becomes a source of attraction. During Summer, taking nature pictures is recommended, as the grass stretching over the land will be in all its green glory. Olympic park is also a really nice place to have a picnic, so don't forget to bring your sandwiches and take a cute and unique picture to show off on your social media. Pretty sure it will be the source of envy!
Information –
Address: 424, Olympic-ro, Songpa-gu, Seoul
서울특별시 송파구 올림픽로 424 (방이동)
Operational Hours: Open 24 Hours
Transportation: Olympic Park Station (Line 5), Exit 3.
Admission: Free of charge (Public Park)

Haneul Park in Autumn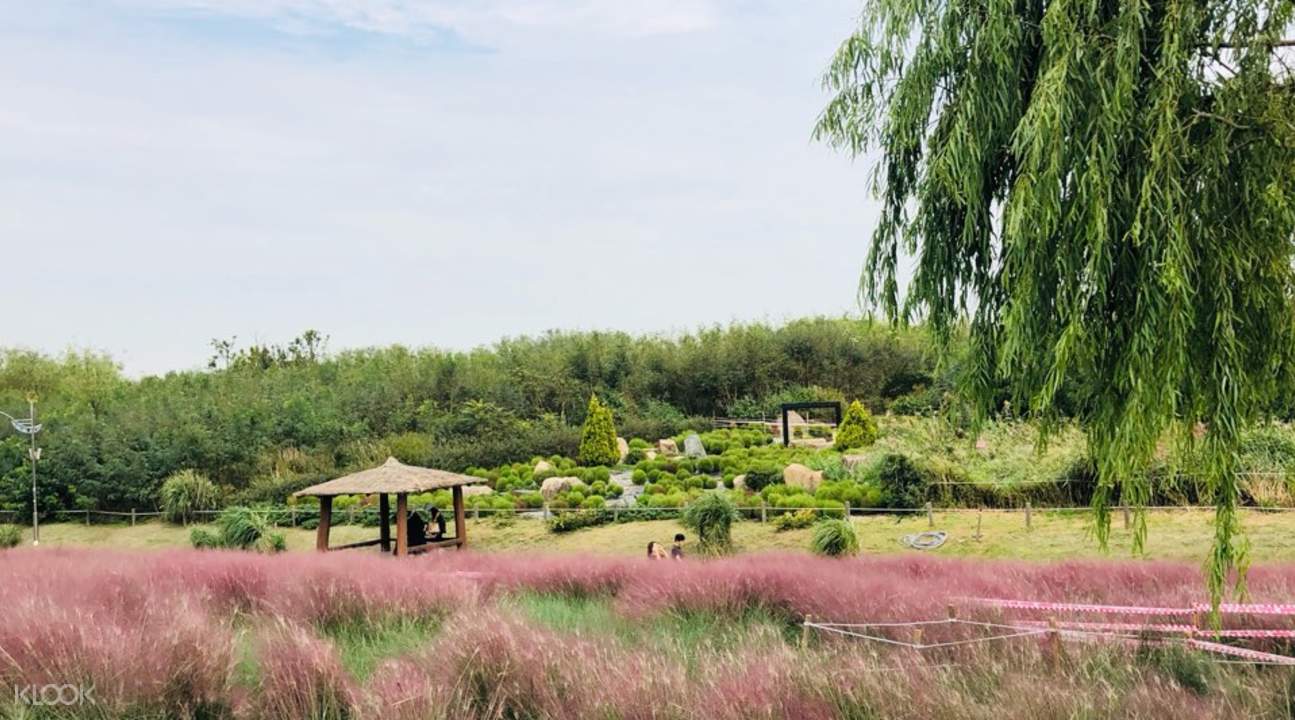 Haneul park is within a larger park district called the World Cup Park. It is home to the World Cup Stadium (2002), Nanji Hangang Park (festivals), etc. However, this park, Haneul park in particular is home to pink-colored grasslands in Autumn. It might be crowded especially during this season due to its very beautiful view, so going during the weekdays may be a better idea. The grassland changes color every season so whenever you go, it will show a unique vibe you did not experience before.
Information –
Address: 121-250 95, Haneulgongwon-ro, Mapo-gu, Seoul
서울특별시 마포구 하늘공원로 95 (상암동)
Operational Hours: Every day 05.00 AM – 10.00 PM (varies on different season)
Transportation: World Cup Stadium Station (Line 6), Exit 1
Admission: No Admission (Public Park)
Bukchon Hanok Village in Winter
Wearing a Hanbok (Korean Traditional Costumes) during Winter might be a difficult task for many. Winters in Korea is considerably cold and this might become a challenge for people to take the best photos. However, if you come after a snowy day, the weather might rise a little, and taking a picture with Hanbok in the Hanok Village will not be as difficult. The combination of snowy roads and traditional houses will make your Instagram picture enviable to many. The Hanok Village is a place where people actually does live and open up their shops in. This is why this village is free of charge. It is just a thematic village that was preserved to show the traditional villages of Korea.
Information –
Address: 37, Gyedong-gil, Jongno-gu, Seoul
서울특별시 종로구 계동길 37 (계동)
Operational Hours: Open 24 Hours, but the shops, museums and restaurants there have their own operational hours
Transportation: Anguk Station (Line 3), Exit 1 or 2
Admission: No admission
Are all these places free of charge?
Yes, all of the recommended places are public areas that are free of charge.
What time of the day do you recommend going there?
This depends on the place, but afternoon about 3PM will be great for all options. And try to go during the weekdays to avoid heavy traffic.
Will I be able to take good pictures alone?
Definitely! Taking a picture with either a selfie stick or a tripod will be enough.
Where can I get Hanbok for rent?
There are multiple Hanbok Rental places around the Bukchon Hanok Village. However, for the best price, I suggest booking online in applications such as Klook or others.
Is it difficult to get to these places?
No. A lot of these places are close to Subway stations and Bus stops. So it should not be a trouble looking for them.