Summer heat is best handled by taking a quick vacation. South Korea is filled with many attractive destinations that are all unique and have their own charms. You probably have heard of Busan or Jeju as an alternate destination than Seoul, but South Korea has many other cities that are worth visiting. Either you are an expat in the big cities, or just coming to South Korea for a holiday, hop on the train and you can get to almost all cities in South Korea. Although there are countless of places that are charming, we have handpicked four destinations that all has different characteristics from each other. Check this out!
Jeonju, Jeollabuk-do (전라북도 전주시)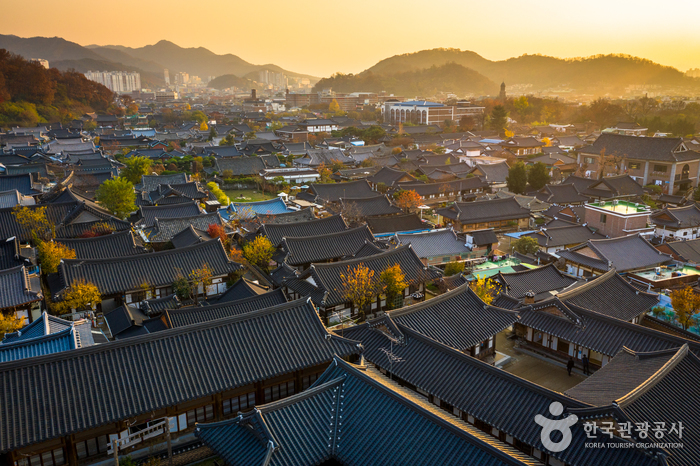 Jeonju is a city that is rich with Korean traditional culture that has been preserved over the years. This makes it the perfect destination for those who wants to get to know more about Korean traditional culture. You will also be able to taste various Korean delicacies across Jeonju which makes it the perfect destination for foreigners who want to get to know Korea. Jeonju Bibimbap (전주 비빔밥) is one of the food that you should not miss out during your visit to Jeonju.
Some places to visit in Jeonju are: Jeonju Hanok Village, National Jeonju Museum, Gyeonggijeon Shrine, Jaman Mural Village, Deokjin Park.
Gangneung, Gangwon-do (강원도 강릉시)
Who is an ARMY here? Or perhaps if K-pop is not your cup of tea, who is a fan of the famous K-Drama Goblin? Even if you are none of the two, Gangneung is still a perfect destination for you to see the beautiful and calm beach of South Korea. Gangneung beaches also has various water sports that you can enjoy, and you can get the freshest sashimi nearby the beaches too.
Some things to do in Gangneung are: Visit Gyeongpo Beach for Water Sports, Jumunjin BTS Bus stop and Goblin Lighthouse, Jeongdongjin Beach for the first Sunset.
Gyeongju, Gyeongsangbuk-do (경상북도 경주시)
For those who likes a more cultural visit, Gyeongju is the best place to visit. Rich with the culture of the earlier dynasties of Korea, Gyeongju is mostly decorated with Buddhist-style buildings and monuments. Different from the charm of the other Hanok villages or Palaces, Gyeongju has several museum and other memorable places as it was the capital during the period of Three Kingdom, specifically the Silla region. Many places are even marked as a UNESCO World heritage site.
Cultural places you can visit in Gyeongju: Bulguksa Temple, Seokguram grotto, Yangdong Folk Village.
Pohang, Gyeongsangnam-do (경상남도 포항시)
Located in the Southern parts of South Korea, Pohang definitely has a charm that is different than Seoul or the beaches of Gangneung. Although it is famous for its beaches, its mountains are very beautiful too. Like many other regions in South Korea, Pohang has both the sea and the mountains. Pohang beach's most popular site is probably this hand statue that is reaching out. It is located in the Homigot Sunrise Square, and is known for its Sunrise festival.
Places to visit in Pohang: Homigot Sunrise Square, Juwangsan national park, Naeyeonsan for the beautiful waterfall.