The weather is getting warmer in Korea, marking that Summer is coming soon. Although Korea is more known for its Spring and Fall season, you definitely should not underestimate the charming season of Summer in South Korea. If you are looking for fun destination ideas, complete with food and activities you can do, look no further.
To fully enjoy Summer in Korea, there are some things you should take note of before planning your travel itinerary. If you are a traveler or even an expat who is new to Korea, make sure to download Korean Map Mobile App to make your holiday a smooth-sailing ride. You can check out our post here to know which App you definitely need in Korea.
Visiting Sokcho – Beautiful Beaches and Mountains
Summer is equivalent to beaches. A 2-hour drive away from Seoul, Sokcho is one of the best locations for city dwellers to enjoy a short and relaxing overnight trip. Located on the easternmost side of South Korea, you will be able to see the East Sea from here. Most Seoulites like to visit Sokcho to eat fresh seafood while enjoying the view of the beach as well as the mountain. One of South Korea's most popular mountains, Seorak-san, is only 30-minutes away from the beaches of Sokcho. Certainly the best of both worlds!
Here is more information about Sokcho Beach.
Summer Music Festivals in Nanji Hangang Park – Hiphopplaya, Water Festival, etc.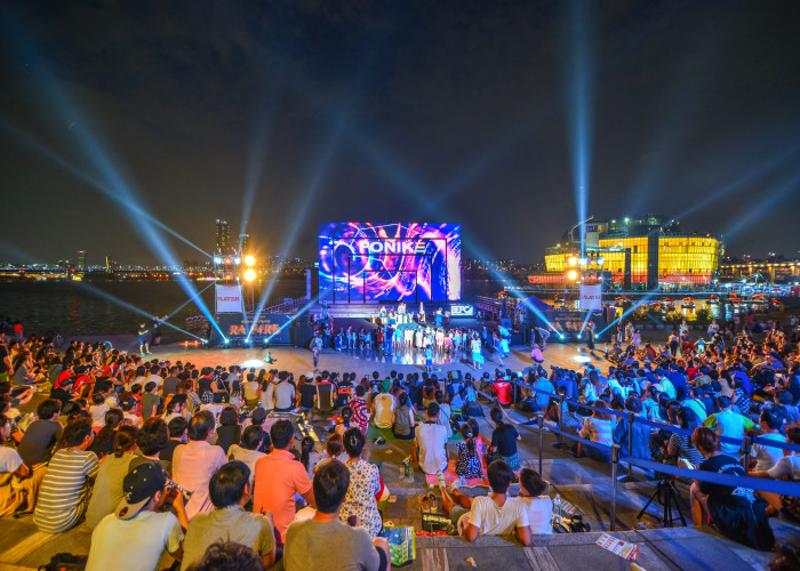 Summer all over the world is known for its music festivals. Although the current circumstance of COVID-19 does not allow it, every year, there used to be multiple music festivals that are held ranging from Rock, Hip-hop, Jazz, K-Pop, or even themed ones like water festivals, forest festival, and many more. Nanji Hangang Park is popular for holding these events during the summer, and every year the festival lineup changes. Fingers crossed for the end of the pandemic soon.
Nanji Hangang Park is also close to Haneul Park, which is popular for its beautiful tall grasses, check it out here.
Water Park Fun and Swimming – Caribbean Bay, Jamwon Hangang Park, etc.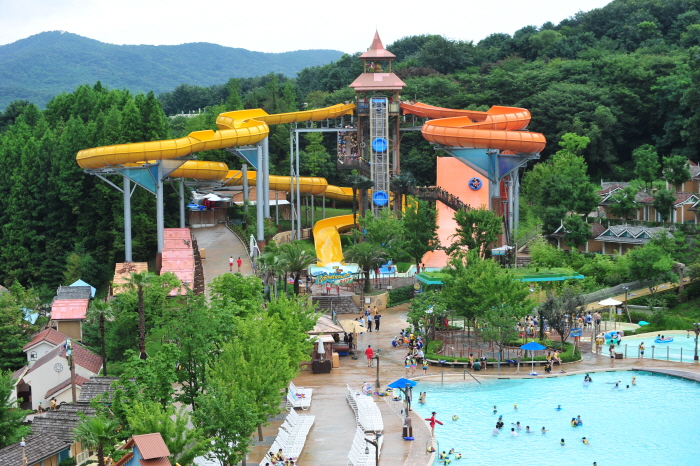 Caribbean Bay, a combined indoor and outdoor waterpark in Everland Resort is Korea's most popular destination for the summer. Summer heat can be annoying, and what better way than to splash it off by playing in the water. Water Parks and Swimming Pools in Korea mostly operate during the Summer only. At least this is true for outdoor ones due to the weather. This is why there are only a few months' spaces for people to enjoy all the water fun.
Other than Caribbean Bay, there is also a fun outdoor swimming pool by the river in Jamwon Hangang Park. If you just want to play with water without all the thrilling rides, then you can give this is a go.
Eating Summer-season Foods – Naengmyeon, Samgyetang, Patbingsu
A variety of food in Korea is only available during specific seasons, or at least only widely sold during a particular time. For Koreans, there is this day called the Bok-nal (복날), which is the hottest day of the year. On that day Koreans usually eat Samgyetang. This is because it is believed that fighting heat with heat is a good way to adapt and stay healthy. You can try out this experience!
Other than eating Samgyetang, there is also this seasonal food like Naengmyeon (냉면), which is basically cold noodles. Although it may be foreign to eat ice-cold food that are not dessert, you should definitely still try it out. If you want a traditional and sweet dessert to fight off the heat, then I suggest eating Patbingsu (팥빙수), red-bead shaved ice.
Night Biking by the Han River – You can start from whichever Hangang Park is the closest to you
Seoul is known for its beautiful night view. To be able to enjoy it fully, riding a bike across the city can be one of the activities you can do. Especially during the summer, as the nights are not as cold as the other seasons, it can be a fun leisure activity that can make you exercise but also enjoy the twinkling city lights and breezy summer. Biking by the Han River is the best way to do this. You will be able to see the beautiful bridges, tall buildings, city lights, and fresh air from the park.
You can either rent the bike or use your own bike by the Han River. It will surely be an activity that you would miss once the weather gets colder.
How do I get to Sokcho from Seoul?
There are 2 ways to go to Sokcho, you can either take the bus or the car. Unfortunately, there are no flights or trains to Sokcho.
When is the Jamwon Hangang Park Swimming Pool open?
Normally, it opens from the end of June to mid-August, however, please check out the website for more information.
How do I rent a bike in Korea?
You can download an app to rent a bike, this depends on the bike provider. Some popular bike providers are Ddareungie, Everybike, etc.
Are the music festivals in Hangang free?
Most of the music festivals require a paid ticket, but sometimes there are free festivals for everyone to enjoy.
When will Naengmyeon be available?
Restaurants usually sell cold food starting from May or June until September. However, there are many Naengmyeon places that sell it all year round.