Around the world, campus tours has become a trendy travel agenda. Even if you're not a student, visiting a university gives you a sense of youth if you are older, or adult-ness if you are younger. The age of freedom, it gives off an expression of a place where anything can happen, an icon of hope. Also, due to the beautiful seasons in Korea, the nature mixed with the air of youth provides everyone with a good feeling. Also, these campuses have been the backdrop of many of your favorite K-Dramas.
Not only that, there are many things you can do in universities, like going for a library tour, or trying out their Student Cafeteria, or even taking a picture in their iconic photo spot. Check out these 5 campuses in Korea that you definitely have to visit while you are here.
1. K-Drama Campus – Yonsei University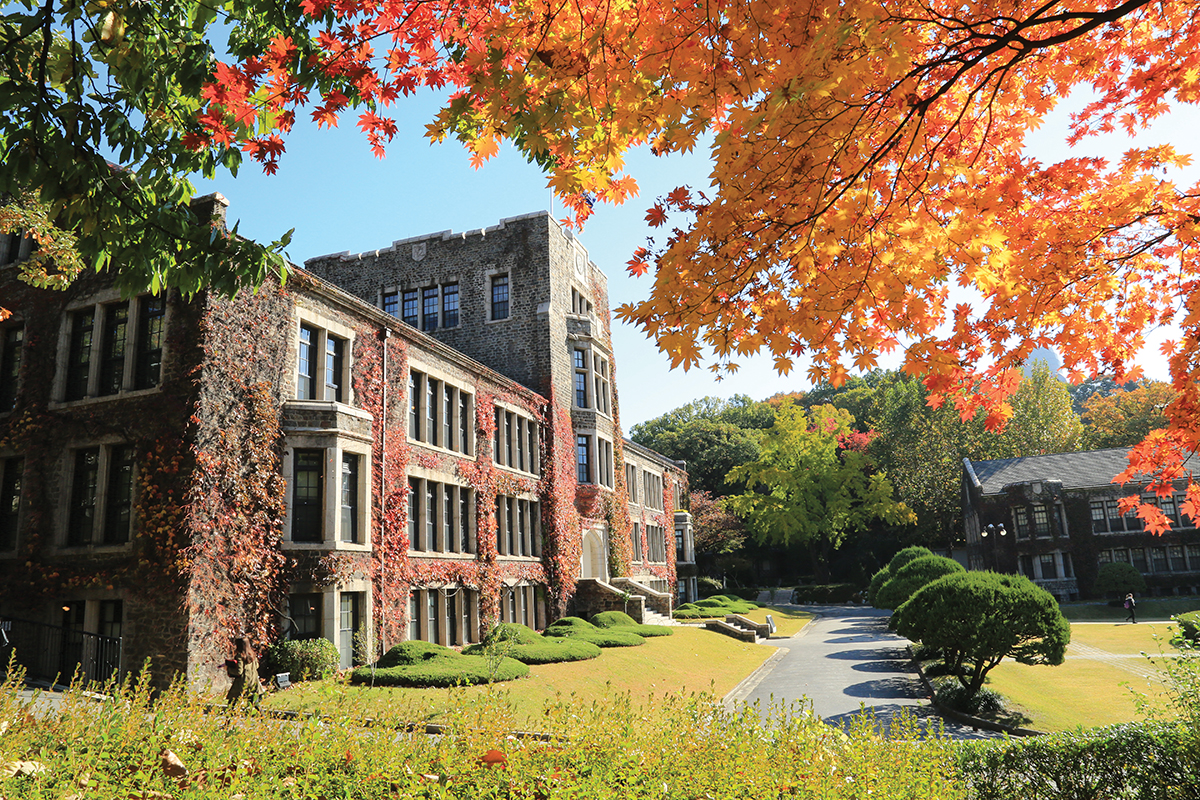 Have you ever seen this campus? I am sure if you frequently watch Korean Dramas, this place would look familiar. Yes that is right! It is the the iconic building from Extraordinary You and True Beauty. Many other dramas also use Yonsei University as a backdrop in several less visible scenes. Also, if you are a Reply series fan, you would've already heard of this school. It is the main theme in Reply 1994, where all the character went to Yonsei University and live in Sinchon Homestay. Chilbong-ie becoming one of the popular baseball players, and Najung a fan of the Yonsei Basketball Varsity team, who have always had rivalry with Korea University.
This campus is a must-visit if you want to immerse in the roles of these dramas. It is also really pretty during the peak of Autumn and Spring, when the ivies began to grow throughout the buildings.
Information
Address: 50 Yonsei-ro, Sinchon-dong, Seodaemun-gu, Seoul
서울특별시 서대문구 신촌동 연세로 50
Transportation: Sinchon Station (Line 2), Exit 2 or 3
2. Gothic Campus- Kyung Hee University
Located in a hilly place that is full of trees, Kyung Hee University is very beautiful whichever direction you see it from. What sets it apart from other Universities is their Gothic style buildings, unique and not easily seen in a Korean campus. Also, due to its pretty campus, it has become a popular spot for K-Drama filming too. This campus if really great during the fall, as with many other places in Korea.
Information
Address: 26 Kyungheedae-ro, Hoegi-dong, Dongdaemun-gu, Seoul
서울특별시 동대문구 회기동 경희대로 26
Transportation: Hoegi Station (Line 1 or Gyeongchun Line), Exit 1
3. A Combination of Modern and Traditional Architecture – Ewha Womans' University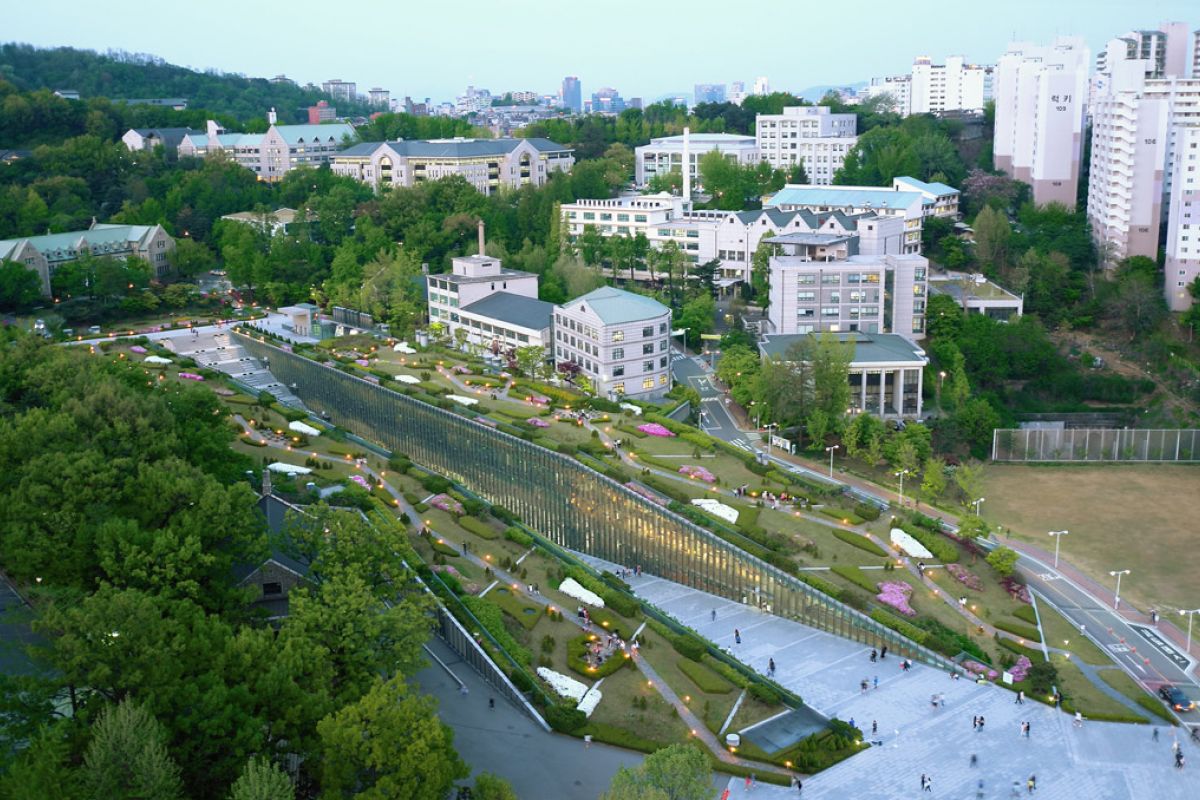 The buildings of Ewha might looks quite similar to other universities, but the glass student union building connecting the entrance and the middle of the campus shows a modern side to this campus. Designed by Architect Dominique Perrault, who is awarded for his design of French Modern Library among many of his works. The place is very unique and definitely a must-visit for architecture students or enthusiasts or even anyone who likes unique things. The campus is a perfect bland of more traditional buildings and modern architectures.
Information
Address: 52 Ewhayeodae-gil, Seodaemun-gu, Seoul
서울특별시 서대문구 이화여대길 52
Transportation: Ewha University (Line 2), Exit 2 or 3
4. Beautiful Lake Campus – Konkuk University
Popular for its romantic lake, Konkuk University Ilgamho Lake gets its own feature in many popular filming and stories. Located in the middle of the campus, it seems like Konkuk University is their very own mini city. The feeling of sitting near land and near water is different, which makes Konkuk University a great place for those who loves the calmness nature brings. It is also the setting to the popular K-Drama, My ID is Gangnam Beauty.
The area near Konkuk University is also really popular with young people. It is one of the it places where you can get anything. But before leaving the campus, make sure to stop by the bridge of the lake to see everything at a glance.
Information
Address: 120 Neungdong-ro, Jayang-dong, Gwangjin-gu, Seoul
서울특별시 광진구 자양동 능동로 120
Transportation: Konkuk University Station (Line 7), Exit 4
5. Castle-like Campus – Korea University
Korea University has a very stunning building right in the centre that looks just like a castle. In front and on the sides of this building, there is a large grassland stretching, making it a popular place to sit down and have a layback meeting or just hanging out with your friends for a picnic. This university is also home to many other beautiful buildings and the Cat forest where there are resident cats that are loved by all the students of the campus.
Information
Address: 145 Anam-ro, Anam-dong, Seongbuk-gu, Seoul
서울특별시 성북구 안암동 안암로 145
Transportation: Korea University Station (Line 6), Exit 1
Can non-students enter the campuses?
Yes, definitely! The whole area are usually open for public, but there might be some buildings that require Student ID to access. But fret not, usually it is only the library or some laboratory that requires these. However, the library usually allow visitor to get a one-day visitor pass.
Do these campuses have a closing time?
For the public areas like the roads, there is usually no closing time. However many buildings may be closed at night or during the weekends.
Can I eat in the Student Cafeteria?
Yes, the student cafeteria does not require a student ID for you to enter and buy a meal so it is most definitely welcomed.
Can I request for a campus tour?
Many universities do provide campus tours for visitor, however you will need to check through their website for reservation information.
Is there a mode of transport inside the universities?
Yes, most universities have their own shuttle bus system. However this is only the case if the campus is very large. For one, Yonsei University does have their own Shuttle bus that you can take from the parking lot of The Commons on the Basement.